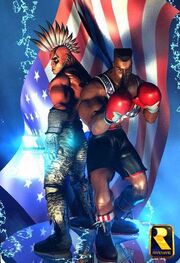 Some K.I. fans have issues about some of the Retro Costumes not being 100% identical to the original Classic costumes from the early 1990s,and that actually one of the top five things hurting the X-Box One remake.
Classics and Retros
Edit
K.I., K.I.2 &K.I. Reboot Costumes!

| Classic | Retro |
| --- | --- |
| | |
| | |
| | |
| | |
| | |
| | |
| | |
| | |
| | |
| | |
| | |
| | |
| | |
| | |
| | |
Public Opinion
Edit
To be honest, just because Black Orchid's Retro Costume looks 90% like her Classic look but not her K.I. 2 look with her butt showing doesn't mean that bad. Other Retro Costumes that I find just as excellent are the ones for Jago, Glacius, Cinder, Tusk, Fulgore, Spinal (though you can get his K.I. 2 Retro Costume through customization), Eyedol, Gargos, TJ Combo (though it's his Classic K.I. 2 Costume, not K.I.1) and Riptor (the Classic body wouldn't work unlike the Retro Costume anyway). Retro Saberwulf however needs his green shirt back, while Retro Chief Thunder is unfortunately 100% not accurate; so theres that. The pants part of Kim Wu's Retro Costume needs to be changed, and so does most of Maya`s Retro Costume. So in My opinion, the Retro Costumes for Saberwulf, Thunder, Kim Wu and Maya most definitely need to be changed for the better.
Ad blocker interference detected!
Wikia is a free-to-use site that makes money from advertising. We have a modified experience for viewers using ad blockers

Wikia is not accessible if you've made further modifications. Remove the custom ad blocker rule(s) and the page will load as expected.