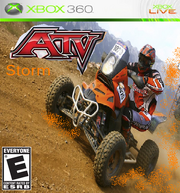 ATV Storm
is a fourwheeling racing game where you can maintain a job, help people, or race for money. It is basically a RPG racing game. You use fourwheels for anything but you can drive other vehicles.
In freerun, you can roam around the worlds as you wish. There are no limits. The boundaries are the only limits.
Fourwheeled Expedition
Edit
In this mode, you race around for championships and for competition.
Survivor Run
Edit
In this mode you race on a crazy track with many obstacles and hazards. The last person still standing or the first person to finish wins.
Main Game
Edit
This is where you do the RPG. You start out as an ATV driver in the forest and you enter in a Fourwheeled Expedition. Then the police recruits you as an undercover ATV driver police.From there you patrol the streets and make sure people do not speed over the speed limit and catch burglars. From there, you pick other careers and go along.
Waypoint Run
Edit
In this mode you race the same as Fourwheeled Expedition but you have to follow the gates around as a track. There is a waypoint editor too.
Locations
Edit
Ocala National Forest
Lake Wier
The Grand Canyon
Rocky Mountains
Smoky Mountains
Chicago
Mt Everest
Arboreal Forest
Amazon Rainforest
Mississippi River
Active Volcano Island
Antarctica